This e-mail has been circling around and we decided to post it. Author Unknown
Athlete: Michael Strahan
Position: New York Giants defensive lineman
Drama: Mama cleaned him out
This Dish: Ex-wives don't get mad, they go to court. In one bitter divorce battle, Strahan's wholesome reputation was hit hard by allegations of adultery, abuse, forgery, lying, perversion and an extramarital affair with another man. When all was said and done, Strahan's ex-wife Jean was awarded a staggering $15.3 million and hundreds of thousands of dollars in child support, despite the fact his net worth is only about $22 million. (Do the math: she's cashing in more than half his net worth.) Adding insult to injury, Jean held a yard sale and sold a bunch of the player's belongings at bargain prices. (You may now cue the 'Waiting to Exhale' soundtrack.)
Athlete: Michael Jordan Position: One of the greatest basketball players of all time
Drama: Mama has great divorce lawyers
Dish: After 17 years of marriage that included expensive gifts, three children, and failed attempts of reconciliation, Michael and Juanita Jordan divorced in '07. Michael is said to be paying his ex-wife $168 million, which includes the former couple's 7-acre Highland Park estate. Cha-ching! Forget about wanting to "be like Mike," we want to be like Juanita: filthy rich, thanks to the legal system.
Athlete:Travis Henry Position: Denver Broncos running back
Drama: Too many mamas, not enough dollas
The Dish: Travis Henry probably couldn't explain to you how a condom works seeing how he has nine children … with nine different women … in at least four southern states. Henry has a $25 million contract and a base monthly salary near $50,000, but splurging $100,000 on a car and $146,000 on jewelry leaves very little for those pesky child support payments. The NFL player fell so far behind on payments, a judge ordered Henry to establish a $250,000 trust fund to cover a new $3000/month child support payment for a boy he fathered with Jameshia Beacham. Young, unprotected sex surely can burn a whole in your pocket
Athlete: Gilbert Arenas Position: Washington Wizards guard
Drama: Crazy, but apparently loveable
The Dish: Gilbert Arenas is a weird guy. It's actually a quality that makes him pretty funny and a fan favorite, but in some regards, weird does have its limits. In 2006, Arenas' on-and-off again girlfriend, Laura Govan, chased him all over our great country with the intent to embarrass and serve him a paternity suit during a televised game. He spent a chunk of the season hiding in hotel rooms under various aliases. Weird? Not really. Cat-and-mouse games come with the territory of being a highly paid athlete struggling with the concept of a condom. But after all that drama the two reconciled, Arenas bought her a house near his in Northern Virginia and in March of '07 she gave birth to his second child. Procreating again with the woman who set out to destroy you … that's not just a little weird, it's a touch of baby mama Stockholm syndrome.
Athlete: Tom Brady Position: New England Patriots quarterback
Drama: Baby mama crimping his style
The Dish: Two months after dumping actress Bridget Moynahan and upgrading to supermodel Giselle Bundchen, the actress dropped a bomb on the QB: she was pregnant with his son. This of course unleashed all kinds of drama, mainly of the single-struggling-mother-vs.- baby's-father-galavanting-with-hot-new-girlfriend-seems-like-he-could-care-less-about-the-kid variety. While Brady's been leading the NFL's hottest team on the field and creeping with Giselle off it, Bridget's been raising their child in California . She even provided the child, John Edward Thomas, with her last name — not Brady's — on the birth certificate. Funny how the New York Jets are the Patriots chief rivals and Tom Brady's son's initials spell JET. Coincidence or revenge of a scorned baby mama?
Athlete: Shaquille O'Neal Position: Miami Heat center
Drama: Shady business
The Dish: After five years of marriage and four children, Shaq filed for divorce in September with allegations that his wife Shaunie O'Neal had been "secretive" about her money and that she may have used marital funds without telling him. The rumor mill churned with gossip that the baller's wife bought a home for her former boyfriend, although recent court reports show no indication of that. According to a financial affidavit she filed, Shaunie's worth nearly $30 million — and that's before her divorce cut from Shaq.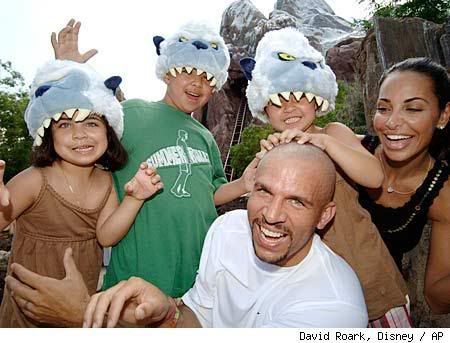 Athlete: Jason Kidd Position: New Jersey Nets point guard
Drama: CRAZY
The Dish: Jason Kidd, who five years ago plead guilty to hitting his wife, Joumana, over a french fry, went through some difficulties this year. And by difficulties, we're talking about the ugly public divorce kind, which includes allegations of infidelity and domestic abuse. After essentially calling his wife a psycho who physically abused him in a lawsuit, Joumana filed a counter-suit against her hubby with claims he had extramarital affairs with TV reporters, strippers, a cheerleader, a Nets season ticket holder and … basically anything breathing in a skirt. She also claimed Kidd assaulted her with everything from a rock to a cookie. But according to Joumana, that's all in the past now. "He comes over all the time — we laugh and joke about it now and he's apologized a million times about how it happened," she told the NY Post. How exactly do those conversations transpire? Perhaps something like, "Hey Jason, remember when you almost killed me and threw cookies at my head? Ah, good times. So funny. Hahahahaha .. so hilarious."
Athlete: Matt Leinart Position: Arizona Cardinals quarterback
Drama: Mama's a party killer
The Dish: Arizona Cardinals quarterback Matt Leinart has been linked with Paris Hilton, Lindsay Lohan and even Britney Spears. Ladies love him, guys want to be him and USC women's basketball player Brynn Cameron has the golden ticket: she's the mother of his kid. After publicly venting about the struggles of carrying most of the parenting load while her baby daddy lived a playboy lifestyle, followed by a less-than-comfy child support dispute, Cameron now has $15,000 reasons to be happy each month. That's the amount Leinart shells out in child support for baby Cole.
Player: Larry Fitzgerald Position: Arizona Cardinals wide receiver
Drama: He could be the father
The Dish: Matt Leinart isn't the only Cardinals player with baby mama drama, wide receiver Larry Fitzgerald might as well be a guest on a Maury Povich "Who's the Daddy?" show. Angela Nazario, a former Oakland Raiderettes cheerleader, filed suit and is currently seeking child support from Fitzgerald who she says is the father of her unborn child. And how's this for drama: Fitzgerald apparently asked Nazario to have an abortion, and then tried to bribe her with money, cars and houses when she refused to comply. "I don't need this all over the news like Matt Leinart," he allegedly said. Oops … too late. Fitzgerald has asked for a DNA paternity test to be taken once the child is born in January.
What will Maury say? "Larry, you are …" stay tuned.
Athlete: LeBron James Position: Cleveland Cavaliers forward
Drama: Permanent baby mama
The Dish: When it comes to LeBron James and his longtime girlfriend, Savannah Brinson, there appears to be little drama. He's an NBA superstar/cash cow, fans love him, and the two welcomed their second son, Bryce Maximus James, into the world this year. No drama at all … until you consider the fact Savannah is still waiting on that wedding bling from King James. Two kids … with the same woman … and no proposal? Perhaps it's a grand plan to make sure she doesn't get alimony one day.
Athlete: Kobe Bryant
Position: Los Angeles Lakers shooting guard
Drama: It's cheaper to keep her
The Dish: After meeting at a music video shoot where Vanessa was a background dancer, Kobe handed her a seven-carat engagement ring, v alued at $100,000 while she was still in high school. Vanessa's given birth to his two daughters, stood by him when he fessed up to cheating and was accused of rape, and amazingly accepted his apology (and the $4 million diamond ring that came with it).
Don't hold your breath waiting for a Vanessa-Kobe divorce because Mrs. Bryant isn't going anywhere. She's a 25 year-old with two kids and since the Bryants had no prenuptial agreement, she stands to receive half of his $200 million. If Kobe likes his fat wallet, he'll hold on real tight to V. Now we're not saying she's a gold digger, but she's certainly working with some high figures.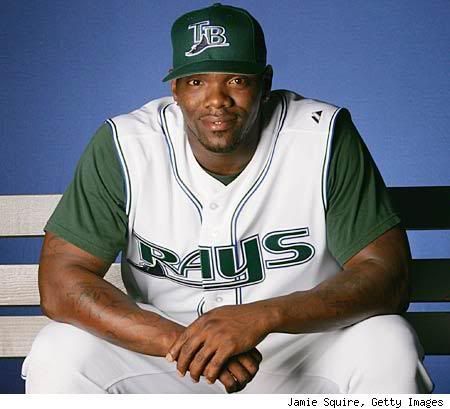 Athlete: Elijah Dukes Position: Washington Nationals outfielder
Drama: Anger management issues
The Dish: Elijah Dukes' estranged wife, NiShea Gilbert sought a restraining order against him after he repeatedly threatened her and their two children in phone calls and text messages, including a photo of a handgun he sent to her cell phone. In April, Dukes stormed the school where she teaches and threatened her to the point where a sheriff's deputy had to ban him from the property. And if you're looking for more drama: he's the father of five children by four different women and two of his kids were born eight days apart from each other. With the writer's strike looming, the 'Dukes of Sperm' is sure to be a reality TV hit
Athlete: Jason Caffey Position: Former NBA player
Drama: So many kids, so little cash
The Dish: Jason Caffey hasn't received an NBA check since 2003, which is unfortunate for him because he has some big child support payments to make for at least eight children ranging from ages 3-14, in and around Atlanta as well as in Alabama, Louisiana and Illinois. It's actually not clear exactly how many children Caffey has fathered, as he and his attorney are mum on the actual count. The former NBA player was so behind on his payments he had to file for bankruptcy to keep his baby mamas at bay.