The time has come. We've heard a lot of features from her, but can Nicki Minaj prove that she can stand on her own two feet with her debut album Pink Friday? Before the album hits shelves November 22nd, check out my quick review on the album.
Let's start with the first track on the album, "I'm The Best", which chronicles Nicki's journey from her musical beginnings to Young Money's first lady. This track along with "Did It On Em" and "Blazin" are what Nicki's 2007-2009 fan base have known to love. Punchlines, creative delivery and a hard flow make for a true NIcki Minaj fan's dream. Mix that with Nicki and Eminem's "Roman's Revenge" and in less than 3 tracks Nicki Minaj has undoubtedly one of the hottest hip hop records to drop this month right? Well, hold it right there. Nice record, but it's not ALL hip hop. Pink Friday is definitely not an album to be boxed into one particular genre.
On the track "Save Me" Nicki flexes her singing chops in a plea for her knight in shining armor to rescue her from herself while "Right Thru Me", "Fly" and "Your Love" show a softer side of the Jamaica, Queens rapper. "Check It Out" which features Black Eyed Peas front man, Will.I.Am is a daring Pop crossover attempt. This album is also chop full of A-list guest appearances. Rihanna, Kanye West, Drake, Eminem, Will.I.Am and Natasha Beddingfield all make a cameo on Nicki Minaj's debut solo effort.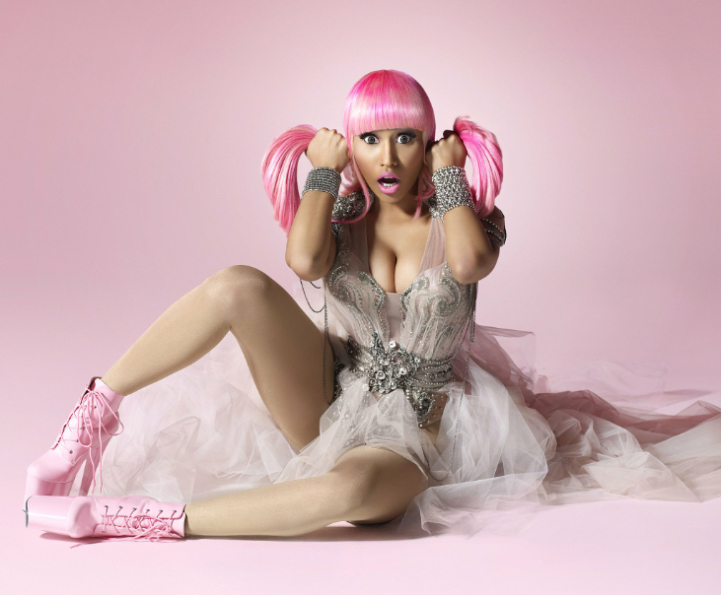 Vintage Nicki Minaj fans like myself can appreciate the more lyrical side of Nicki while her younger and newer fans will probably go for more of the singing and Top 40 Nicki. Do I like the album personally? I think its solid. All in all, this album has a little bit for everybody. Just skimming through the tracks I'd have to say the album was nice, yet not exactly what I expected after listening to the "Beam Me Up Scotty" mixtape repeatedly in my car. With a few listens however, I think I can grow to like it more and more every day. It's definitely worth it to support women in hip hop so I'll be buying it for that reason if nothing else. This album follows very high expectations but don't expect the buzz surrounding Nicki Minaj to die anytime soon.
Check out the Song Dear Old Nicki: