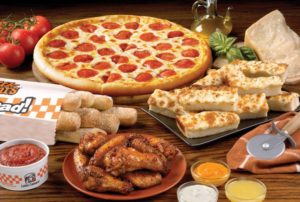 Little Caesars is being sued for $1 million by an ex-employee who experienced several incidences of racism, discrimination, and harassment.
Dionte Lawrence, formerly employed at a Little Caesars in Chicago, filed multiple complaints to the Human Resources department from September 2015 up until his termination in January 2017.
Shortly after he started his job, Lawrence says he asked a co-manager why all the black employees worked in the back of the store while all the Hispanic employees worked in the front of the store to interact with customers. After not receiving an explanation, he then contacted human resources who told him, "We don't mean to be racist, but this is a predominately Hispanic neighborhood."
⠀⠀⠀⠀⠀⠀⠀⠀⠀
⠀⠀⠀⠀⠀⠀⠀⠀⠀
Months later, Lawrence was reassigned to the front of the store and his co-workers immediately started harassing him by calling him a "negro" and a "slave" while one of them "picked up and shook metal chain links" and asked him if they "looked familiar." He claims the racial slurs escalated and became more frequent, however, his HR complaints did not result in change.
⠀⠀⠀⠀⠀⠀⠀⠀⠀
⠀⠀⠀⠀⠀⠀⠀⠀⠀
In one incident in November 2016, Lawrence claims his co-workers said, "I hate the texture of your hair – can I touch it?" They proceeded to pull his hat off, grabbed his hair and threatened to shoot him.
⠀⠀⠀⠀⠀⠀⠀⠀⠀
⠀⠀⠀⠀⠀⠀⠀⠀⠀
Then in December 2016, he claims he was cleaning when a co-worker physically assaulted him when another co-worker joined in beating and kicking him in the head, which eventually caused him a broken nose. Lawrence was first suspended and then terminated due to the altercation.
⠀⠀⠀⠀⠀⠀⠀⠀⠀
⠀⠀⠀⠀⠀⠀⠀⠀⠀
He is suing for $1 million and claims he has suffered depression, anxiety, emotional distress, loss of income and loss of enjoyment of life. ⠀⠀⠀⠀⠀⠀⠀⠀⠀
⠀⠀⠀⠀⠀⠀⠀⠀
"Little Caesars has a zero-tolerance policy against any forms of discrimination or harassment. We take this extremely seriously and we are investigating the alleged incidents. We cannot comment further on pending litigation," a store representative said in a statement.