Art Basel and Miami Art Week 2022 kicks off in the Magic City from November 30 through December 4 with tons of art exhibits, pop-ups, activations and parties, of course. Here's Baller Alert's go-to guide to some of the most can't-miss events around town.
Virgil Abloh: The Codes c/o Architecture, Dec 1-4
Nike is set to host "Virgil Abloh: The Codes c/o Architecture" at Art Basel this year from Dec. 1-4 at the Rubell Museum in Miami. The 4-day experience will feature discussions, exhibitions, and workshops around the late designer's work.  The exhibit will also feature the official debut of the Off-White x Nike Terra Forma, designed by Abloh.
Michelob Ultra's Courtside Countdown Challenge, Dec. 1
Basketball and beer. What more can you ask for? Michelob ULTRA and the NBA come together for Michelob Ultra's Courtside Challenge at Maps Backlot in Miami's Wynwood neighborhood. The event even features sets by 21 Savage–who joust released a joint project with Drake– and Miami's own DJ Irie. NBA team cans created by artists like Chuck Anderson, Bigshot Robot, and Eric Elms will also be unveiled. Basketball fans will also have the chance to see Heat legend Alonzo Mourning and Chris Brickley face off against fellow legend Gary Payton and WNBA/Los Angeles Sparks player Nneka Ogwumike. Doors open a 7 pm. RSVP is free here: https://ultra-courtside-miami.rsvpify.com/
SoundCloud Next Wav, Dec.1
SoundCloud is heading to Miami for an immersive day-to-night event centered around the art of self-made music-making. Taking over Supercar Rooms in Wynwood, the Next Wav event will feature free interactive experiences, including panels with industry tastemakers, a SoundCloud SoundBooth presented by Denny's, a portrait studio, and more. At night, fans can catch performances from J.I.D, Joe Kay of Soulection, Armani White, and KenTheMan. Doors open at 3 p.m. For more info and to RSVP, visit: https://soundcloudnextwavmiami.splashthat.com/
The Sounds of Shrine, Dec.1
The Shrine Miami brings you Sounds of Shrine sponsored by DAILY PAPER & AudioMack Art Basel. This special event features DJs Uncle Waffles, Major League DJz, DJ Moma & more for a night of afrobeats, amapiano and Caribbean music. Find more info at: https://www.soundsofshrine.com/
Todd James x BBC ICECREAM Art Basel Experience, Dec. 1
Pharrell Williams and BBC ICECREAM invite fans to join them in celebrating visual artist Todd James with a special Art Basel experience that celebrates the duo's partnership. The event kicks off at 5 p.m. and runs til 8 p.m. Find tix and info here.
RICHES presents The Crown We Never Take Off, Dec. 2-3
Curated by Donnamarie Baptiste, The Crown We Never Take Off exhibit celebrates Black achievement and a strikingly brilliant exploration of hair customs and rituals so deeply entrenched that neither time nor distance has erased them. The work of artists like Carlos Idun-Tawiah, Loni Johnson,  Shanneil Clarke and Cletus Ngum will be featured in the two-day event. Poet Aja Monet, and DJs Aya, Slick 305, and AQ, among others, will be setting the vibes.  The exhibition takes place at Soho Studies in Wynwood and runs Dec. 2-3. For more info and to RSVP, visit: https://thecrownwenevertakeoff.splashthat.com/
Rock The Bells: Yacht The Basel presented by Cheetos, Dec. 2
Hip-Hop, sneaker culture and art collide at Rock the Bells and Cheetos' Yacht The Basel. The event is back this year for a unique experience on the water. It will feature a performance by rapper Flo Milli. Plus, the legendary DJ Mannie Fresh will be providing the vibes. Event kicks off at 2:30. RSVP here: https://www.eventbrite.com/e/rock-the-bells-yachts-beats-art-presented-by-cheetos22-tickets-463611603787
Love + Grit On the Road: Miami Art Week Edition, Dec. 2
Visit Philadelphia's Love + Grit Podcast will highlight some of Philly's top creatives in fashion, music and art at their event taking place taking place Friday, December 2, at Planta South Beach from 11 am – 4 pm. The event features a Bungee Obleceni Footwear with artists Symone Salib, Lawren Alice, Alloyius McIlwaine and Tiff Davis x AmericanQueenTJD. Rich Medina, Joshua Lang and DJ Matpat will curate the sonic backdrop for this not-to-be-missed event. RSVP at: https://www.visitphilly.com/features/rsvp-for-love-grit-on-the-road-miami-art-week-edition/.
WRKSHP x SCOPE VIP Party, Dec. 2
SCOPE Miami Beach will kick off its fair with a VIP Party. The annual celebration previews the international contemporary art show and will feature some of the most renowned artists, galleries and collectors for an exclusive Miami Art Week celebration. The line-up of DJs includes DJ Cazes, Ricks (All Summa), Angel & Dren and Isaac Likes. A special surprise guest will also be in attendance. SCOPE Miami Beach is located on South Beach's iconic Ocean Drive between 8th and 10th Avenues at 801 Ocean Drive. Doors open at 9 p.m. RSVP at: https://scopevip.splashthat.com/
Everyday People Miami, Dec. 3
"The World's Coolest Day Party" is headed to Miami for Art Basel weekend! The 21+ event takes place at Oasis in Miami's Wynwood neighborhood, and we're certain the vibes will be there. Admission is free with a confirmed RSVP courtesy of Wray & Nephew Overproof Room. DJ Moma, Silent Addy, Spinser Tracy & other special guests will be providing the tunes. RSVP at: https://www.tixr.com/groups/oasismiami/events/everyday-people-miami-55284
Mirror Mirror Music Festival, Dec. 3
The life and legacy of the late Virgil Abloh will be celebrated at the first-ever Mirror Mirror Music Festival, taking place at FPL Solar Amphitheater at Bayfront Park in Miami. Curated by Virgil Abloh Securities, a Virgil-founded creative company, the festival will feature performances from Travis Scott, Skepta, Benji B, Venus X, Yves Tumor, Bambii, Acyde, Rampa, and Pedro. Proceeds from the event will be donated to support the launch of The Virgil Abloh Foundation.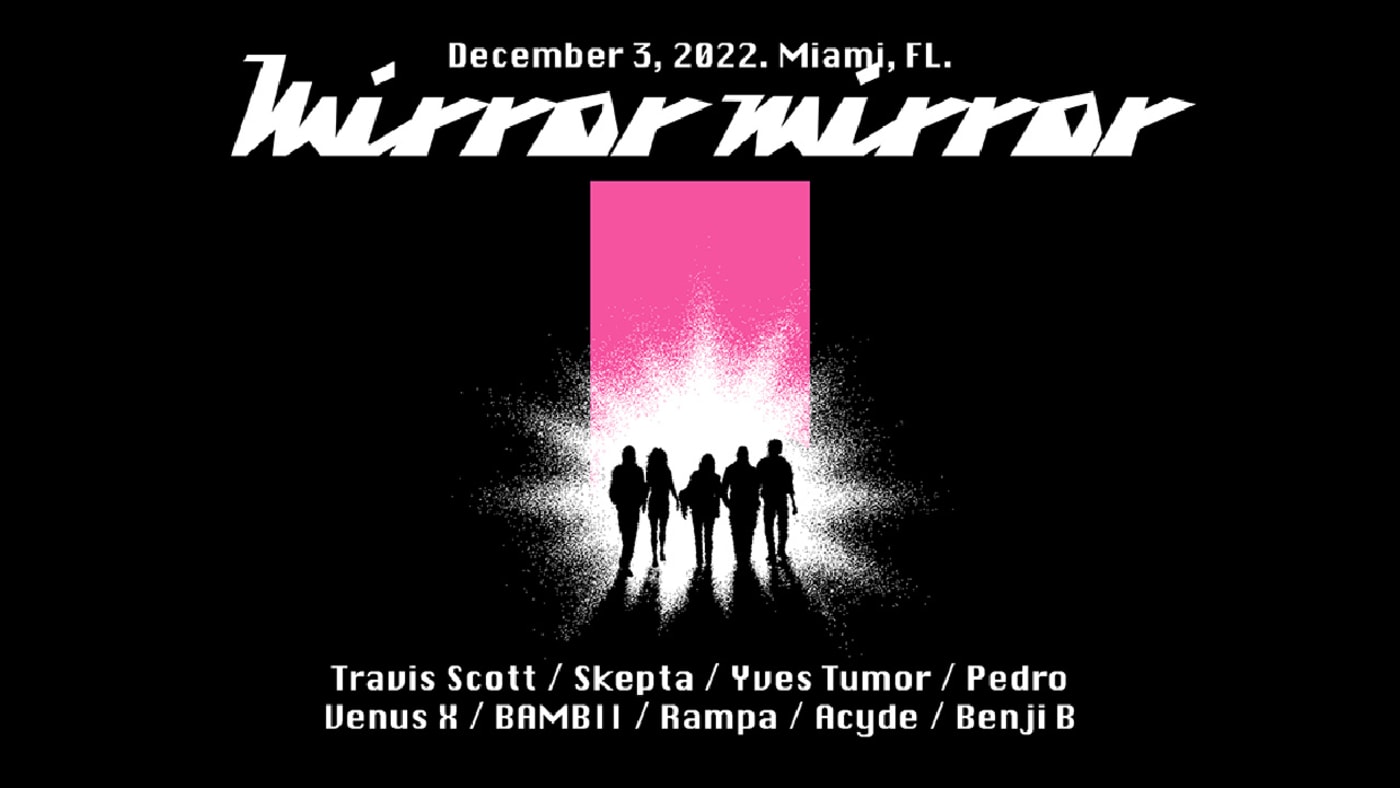 Art Fairs/Exhibits
The Art of an Athlete
Harlem Globetrotter Max Pearce's The Art of an Athlete exhibition will be unveiled Dec. 3-5 at N'Namdi Gallery. The exhibit celebrates social protests in sports through mixed media art, including a wire structure of Colin Kaepernick twinning with Mohamed Ali and a torso of Jackie Robinson made solely with baseballs and baseball gloves.
Art Basel Miami Beach
Marking its 20-year anniversary in Miami Beach, Art Basel 2022 will feature 282 premier galleries – the largest show to date. Art Basel will take place from December 1 to December 3, with preview days on November 29 and November 30 at the Miami Beach Convention Center (MBCC). This year's fair will also include vibrant cultural programming across the city's world-class institutions and private collections. Visit artbasel.com for a list of exhibitors and programming details.
The Gateway: a Web3 Metropolis
NFTs and Web3 will be showcased in a big way this year. nft now's 'The Gateway: a Web3 Metropolis' is five days of immersive experiences, taking from Wednesday to Sunday, celebrating the integration of art in Web3. The festival will take over 12 buildings and 2 city blocks in Downtown Miami to unite the web3 community for a landmark experience unlike any other. It will also feature leading artists, community partners, speakers and performers. Find more info at: https://nftnow.com/the-gateway-2022/
Spectrum Miami and Red Dot Miami
These art fairs celebrate the world's most progressive portfolios by today's elite artists, galleries, and emerging talents. It takes place at Mana Wynwood, Thursday, November 30 to Sunday, December 4. Spectrum Miami, an upscale and urban curated contemporary art fair will be located adjacent to Red Dot Miami which is a curated gallery-only contemporary art fair.
Art Beat Miami
Art Beat Miami returns for its 9th year. The one-of-a-kind experience of visual art, music, fashion and food showcases the works of more than thirty renowned international and local emerging artists. From Nov. 30-Dec.4, the exhibit will feature 5 days of visual art, music and entertainment, including:
Day 1: Wednesday, November 30, 2022 | 12 pm-3 pm
Community Day
Joseph Caleb Center- 5400 NW 22nd Ave, Miami, FL 33142
Community Day will showcase renowned international emerging and local artists, DJ music, entertainment and light bites. Admission: Free
Day 2: Thursday, December 1, 2022 | 5 pm-7 pm
Art Beat Miami Preview Party
Brightline Miami Central Station- 600 NW 1st Ave, Miami, FL 33136
Art Beat Miami Preview Party will showcase renowned international emerging and local artists featuring art like Adonis Parker, Lumpkin and musical performances by the Harden Project. Admission: Free
Day 2: Thursday, December 1, 2022 | 4 pm-7 pm
Painting Our History
Soar Park Little Haiti Optimist Club- 120 NW 83rd St, Miami, FL 33150
Joseph Caleb Center Model City Branch Library- 5400 NW 22nd Ave, Miami, FL 33142
Students at the arts workshop during Art Basel/Miami Art Week will learn about art history as well as their history through arts & crafts. They will develop skills while creating art-inspired projects. Admission: By Invitation
Day 3: Friday, December 2, 2022 | 6 pm-7 pm
Conversations with the Artists
Brightline Miami Central Station- 600 NW 1st Ave, Miami, FL 33136
Art + Artists = Expression. Attendees will enjoy conversations with Art Beat Miami exhibiting artists. Admission: Free
Day 4: Saturday, December 3, 2022 | 12 pm-2 pm
Chefs of the Caribbean Celebrity Brunch
Brightline Miami Central Station- 600 NW 1st Ave, Miami, FL 33136
The brunch will feature light bites from Chefs of the Caribbean and Overtown eateries, entertainment and art as the backdrop. Admission: Free
Day 5: Sunday, December 4, 2022 | 4 pm-6 pm
Sew Artsy (Art on the Catwalk)
Black Archives – Historic Lyric Theater- 819 NW 2nd Ave, Miami, FL 33136
A Wearable Art Fashion Show that takes Art to new heights in shapes, colors, design, texture and movement on a catwalk truly designed for masterpieces. Some of the featured fashion designers included are JB Couture, House of Lamaica Couture and Ruth Louissaint Designs.
General Admission: Free | VIP Admission: $25