The Trump administration is spreading misinformation AGAIN! This morning, Donald Trump's third child Eric Trump, shared a fake image of rappers Ice Cube and 50 Cent wearing "Trump 2020" hats, with the caption "Two great, courageous, Americans!"
As many noticed, the image was a fake, the real image was from the August 2017 Big3 championship game.
Recently both rappers have been in the headlines for supporting Trump. Cube faced backlash after he revealed he would work for Trump's campaign for their Platinum Plan for Black people in America.
Cube tweeted, "I mean, it's politics. Both sides are taking advantage of whatever little piece of information they think could swing something," he said. "So it's like, has Biden taken credit for everybody that's running out to vote for [him]? So who knows? They doing it. That's politics. Not concerned with those games."
50 Cent recently received backlash as well, for seeming to endorse Trump and expressing how he felt about the proposed tax increase for top earners under Joe Biden.
On his Instagram was a screenshot highlighting the top tax rates by state under Biden's tax plan, along with this caption. "WHAT THE FUCK! (VOTE ForTRUMP) IM OUT, FUCK NEW YORK The KNICKS never win anyway. I don't care Trump doesn't like black people 62% are you out of ya fucking mind."
Ice Cube was the only one to respond to the fake image that Eric Trump posted, saying "N**** Please."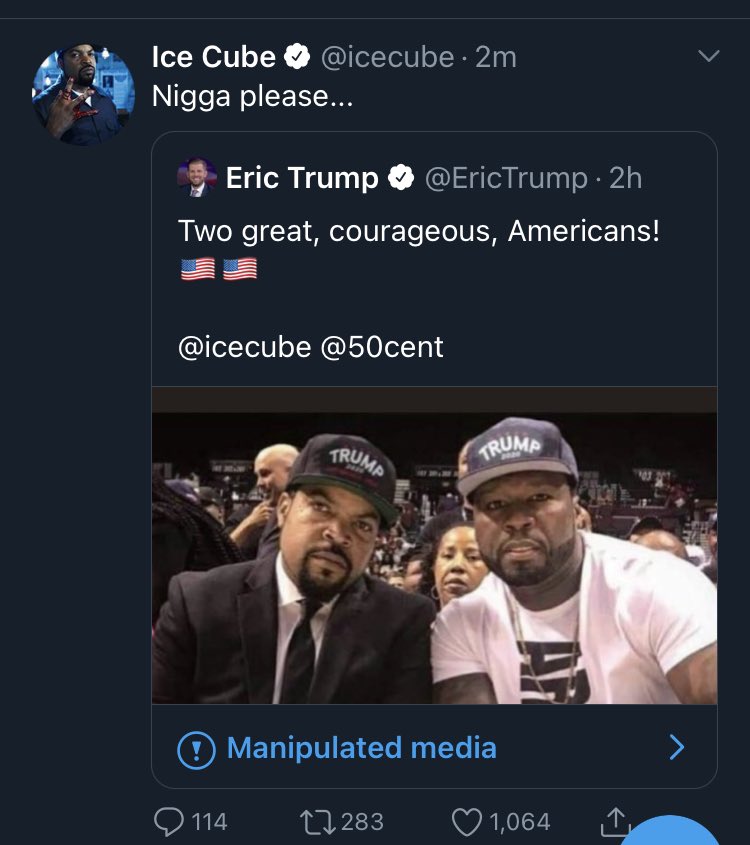 50 Cent has yet to respond to the post.